ESDD & Auditing services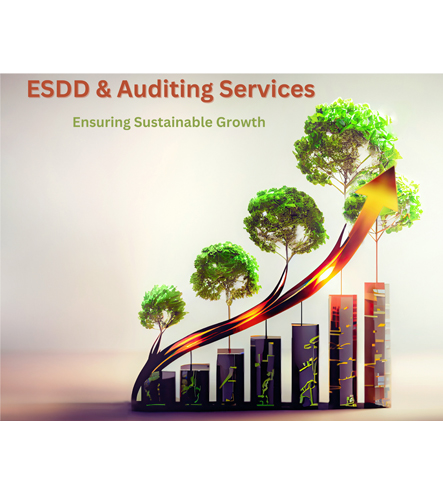 ESDD & Auditing services:
Ensuring Sustainable Growth
What is ESDD?
Environmental and Social Due Diligence (ESDD) is the process of assessing and analyzing the potential environmental and social risks and impacts associated with an investment, project, or business operation. It aims to identify and address any existing or potential environmental and social issues that may affect the sustainability, reputation, or performance of an investment.
Why is ESDD Important?
Risk Mitigation: ESDD helps identify and mitigate environmental and social risks that could impact the financial and operational aspects of an investment.

Sustainability: By considering environmental and social factors, ESDD contributes to more sustainable and responsible investment decisions.

Reputation and Stakeholder Relations: A commitment to ESDD enhances your company's reputation and fosters positive relationships with stakeholders, including investors, communities, and regulatory bodies.
Why EVPL®?
EVPL® with its 30+ years of experience has accumulated invaluable experience in assisting clients across various industries in achieving their environmental sustainability goals.

With a team of dedicated professionals, we have navigated the ever-evolving landscape of environmental regulations and best practices.

Our ESDD Process involves conducting comprehensive gap analysis to identify areas where businesses might fall short of compliance with environmental regulations by conducting Preliminary Assessment, Site Visits, Environmental Social Assessment, Regulatory Compliance, Risk Mitigation Strategies etc.

Our risk identification process goes beyond regulatory compliance, extending to broader business risks associated with environmental impact which could potentially affect the client's reputation and operations
We associate with:
Private Equity Firms, Mergers & Acquisitions Firms, Venture Capitalists, Investment Firms, Project Proponents, Decision Makers, Senior Management of Companies.
Get in Touch